Posted: 10th May 2019 | Back to news feed
DUJARDIN SHINES ON DAY TWO OF ROYAL WINDSOR HORSE SHOW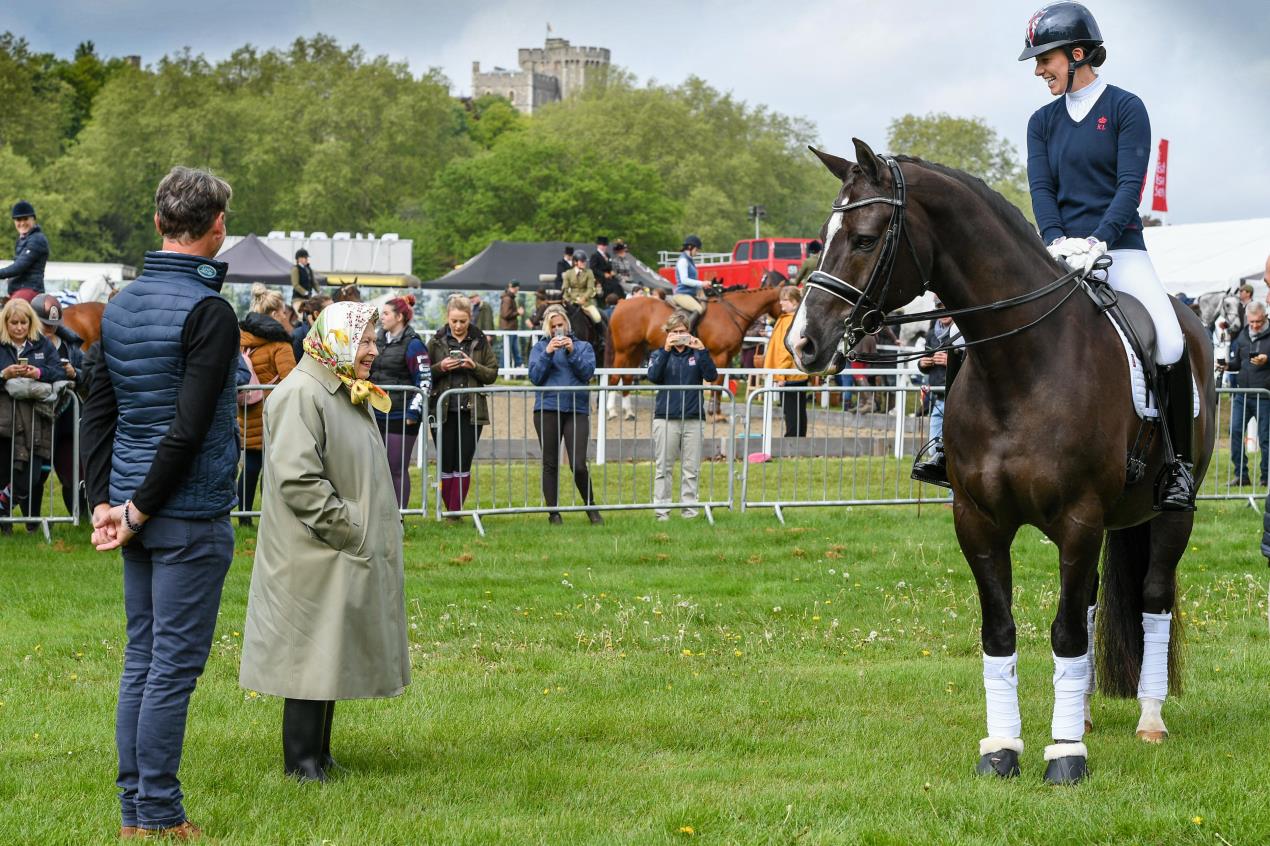 CHI ROYAL WINDSOR HORSE SHOW DAILY REPORT
Day two of CHI Royal Windsor Horse Show marked the start of the international competitions with the CDI4* FEI Dressage – The Al Shira'aa Grand Prix proving to be the star attraction. Spectators were also treated to a host of other disciplines, including top-class national Show Jumping, high quality Showing, military displays from Oman and Dubai, and fast and furious fun from the DAKS Pony Club Mounted Games. Once again in attendance, Her Majesty The Queen was introduced to Olympic sensation, Valegro by Dressage riders, Charlotte Dujardin and Carl Hester.
---
DRESSAGE: DUJARDIN AND HER NEW PRODIGY TOO GOOD FOR THE REST OF THE FIELD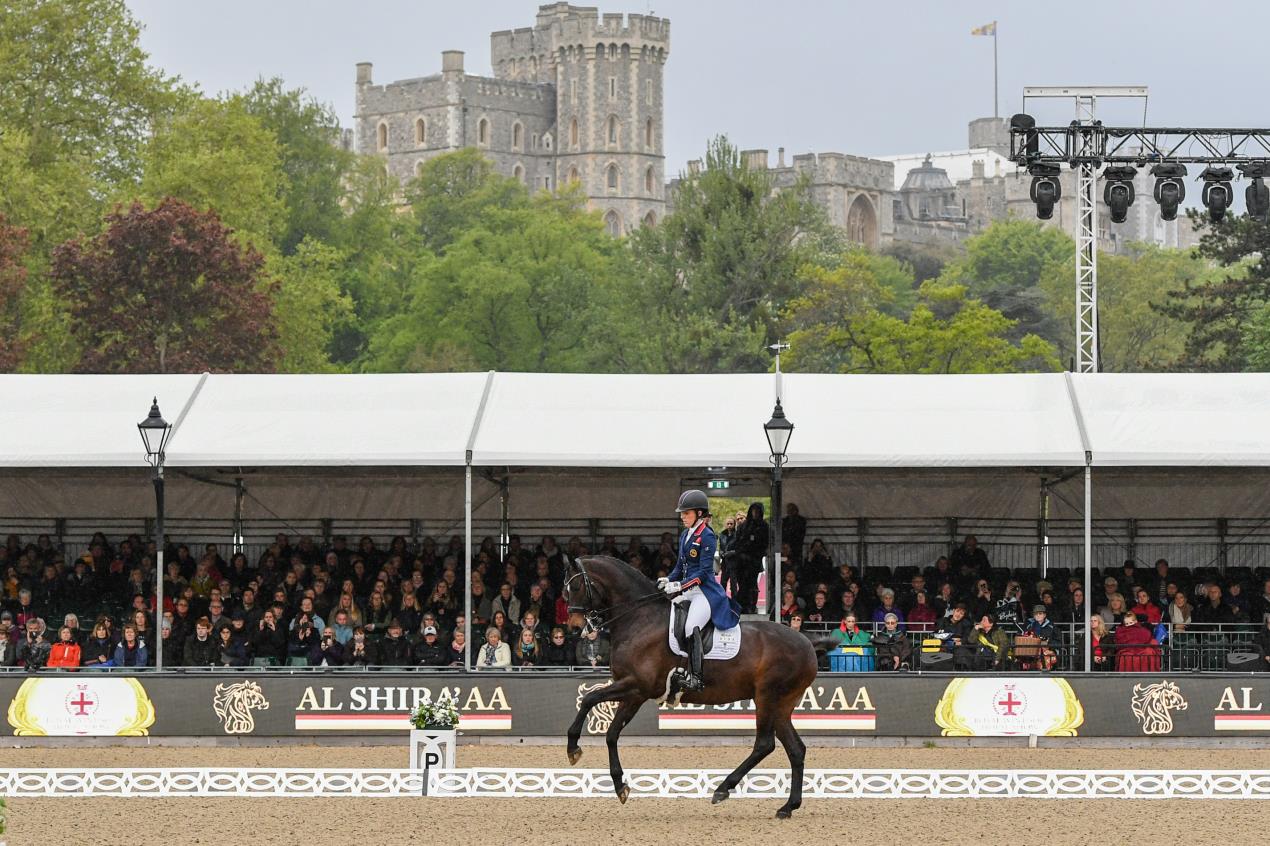 Home favourite Charlotte Dujardin scored a magnificent victory with a score of 78.087% in the CDI4* FEI Dressage – The Al Shira'aa Grand Prix on a chilly and damp Thursday evening. The golden girl of British Dressage, who is a two-time winner at Royal Windsor (2014 and 2018), entered the Castle Arena to warm applause from the knowledgeable crowd, looking resplendent aboard her relatively new ride, 12-year-old bay gelding, Erlentanz. Dujardin displayed her trademark extended trot to the delight of those watching on, while her relaxed walk and beautiful extended canter were highlights of her combination.
Dujardin and a quality field of 10 further horse and rider combinations, which included five Britons - among them Dujardin's long-standing mentor, Carl Hester - wowed Windsor's animated audience in the Castle Arena. With competitors building towards the FEI European Championships in Rotterdam, The Netherlands in August 2019, Royal Windsor is seen as an important place to gain some valuable confidence and experience in front of a packed crowd.
Carl Hester and his 15-year-old gelding Nip Tuck, whose stable name is Barney, were back on the circuit after a quiet couple of years. The duo, who finished second behind Dujardin with a score of 74.304% looked relaxed and supple in the walk work, and included some impressively small pirouettes in their combination.
On her winning performance and competing at Windsor, Dujardin commented: "Erlentanz tried his heart out and I'm really pleased with my score, particularly as it was a new combination. I've been competing at Windsor since I was a small kid – it's a fantastic Show for me, with some great people and fans. Seeing all the other disciplines that Windsor offers is great to see. It's always good to watch my boss [Carl Hester] so I'll have to be polite what I say! We bounce off each other and I'm really pleased for him. I just hope and pray tomorrow evening goes according to plan [in the CDI4* FEI Dressage – The Al Shira'aa Grand Prix Freestyle to Music]."
Delighted with his performance, eventual third place rider with a score of 72.978%, Richard Davison, commented: "I'm really pleased with my score but I'm even more pleased with the horse's [Bubblingh] performance. He suffers from what I'd call stage nerves, so I'm really impressed with how he dealt with everything in front of the crowd. He's a real privilege to ride and it was one of the easiest rides I've ever had on him. I rode his mother in the Olympics and we ended up breeding him. He really is such a lovely horse to ride; he's got so much power and talent. I hate to compare him to his mother, but he's a top horse. This Show is truly magical, and it doesn't matter about the rain, as the facilities for the horses, including the stabling and the footing in the Arena are top quality."
---
SHOWING: JUSTINE ARMSTRONG-SMALL ECSTATIC TO LIFT FIRST EVER OVERALL TITLE, AS LADY LOUISE WESSEX DEBUTS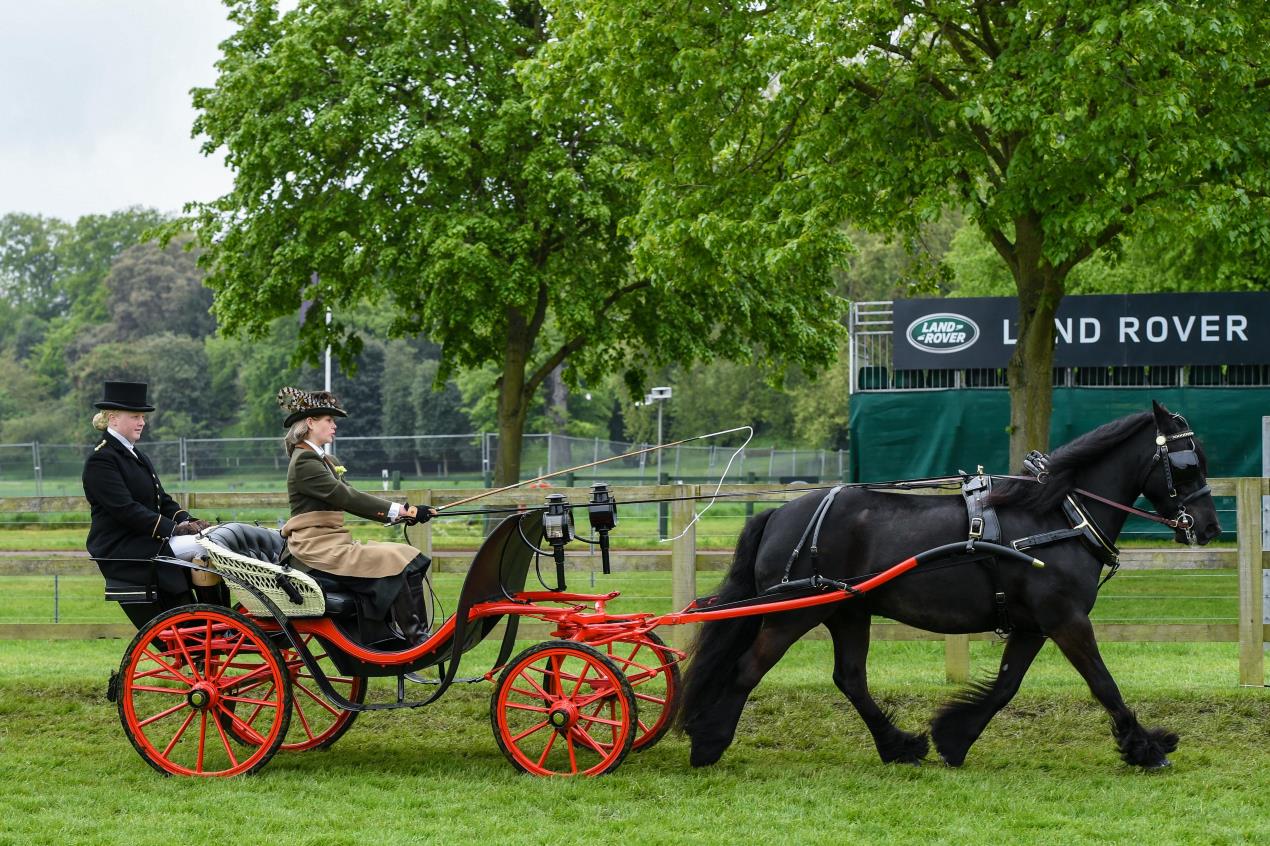 Working hunters provided the highlight of today's showing classes, but clear rounds proved difficult to achieve. Only two lightweights remained faultless, and no heavyweights successfully negotiated the clever course.
However, after a thrilling gallop in the Castle Arena finale, the title went to the winner of the latter class, Essex-based Justine Armstong-Small with her smart Irish-bred eight-year-old, Carlingsford King, who had made just one mistake in an otherwise stylish round. They pipped last year's intermediate victor, Silver Lough — partnered by North Yorkshire-based riding coach William Pittendrigh — who had won the lightweights with a clear round.
Although Justine has won at Royal Windsor before, she had never lifted the overall title and her last class win was 15 years ago.
Coloured horses and ponies filled the Copper Horse Arena all afternoon, providing a huge variety of type in enormous classes. After examining more than 90 animals, judges Mathew Lawrence and Linzy Dickinson opted for Royal Windsor "specialist" Jayne Ross's ride, KBF Crescendo, as their champion.
Retrained ridden racehorses provided absorbing competition in the morning, with the championship eventually going to Oxfordshire-based Jo Bates and the stunning grey, Grandeur — formerly a successful contender on the Flat — who pipped last year's winners, Sofia Scott and L'Amiral David.
Lady Louise Wessex made her debut at Royal Windsor Horse Show finishing in a very respectable third place in the Private Driving - Singles exceeding 13.2hh.
---
SHOW JUMPING: MASTERFUL MAHER ON WINNING FORM IN LAND ROVER STAKES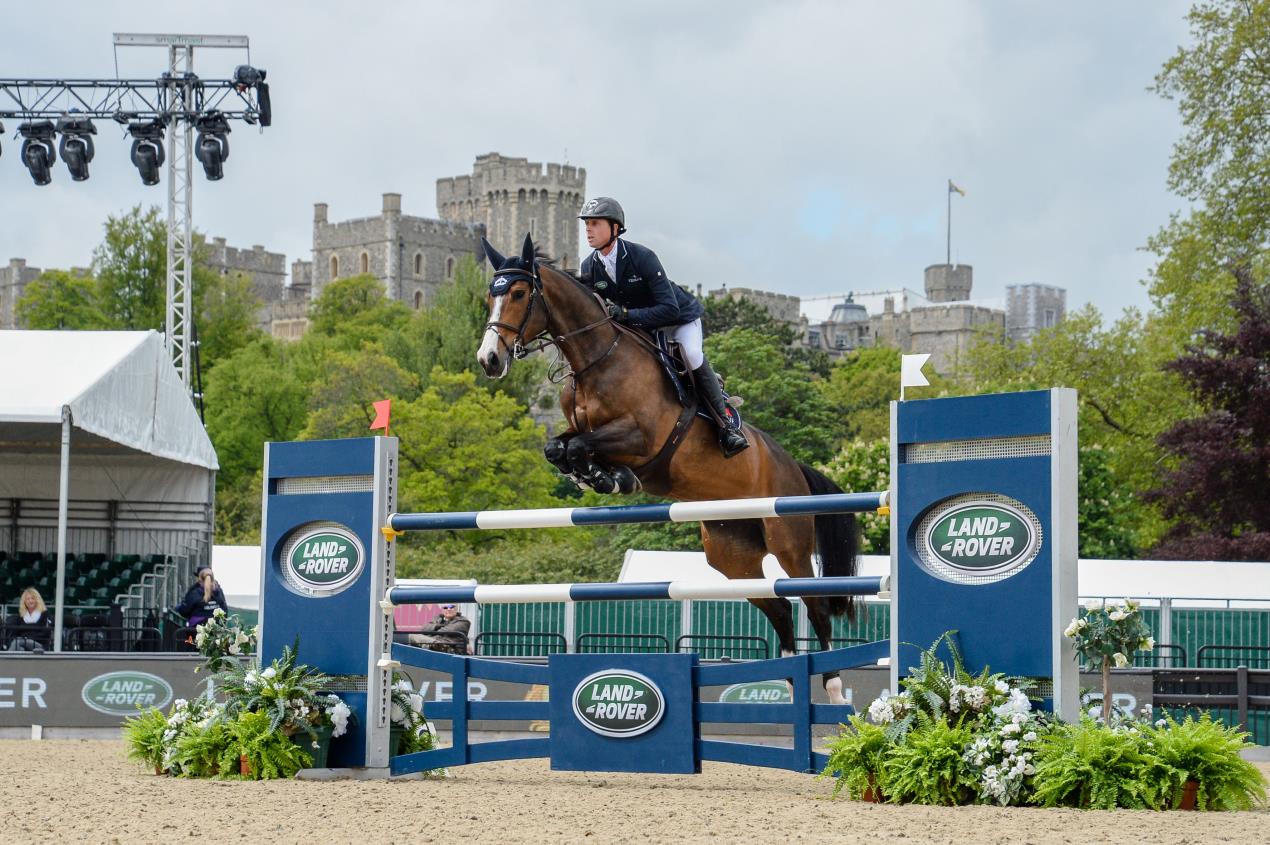 Day two of Royal Windsor Horse Show kicked off with another scintillating morning of Show Jumping action. The Castle Arena opened its gates and played host to the H&C TV Senior 1.35m Open Jumping Competition in which British rider, Georgia Tame and Z SEVEN CANYA DANCE deservedly took the spoils. Twenty third into the arena and up against yesterday's winning Britons, Laura Renwick and Robert Whitaker, Tame and her eight-year-old chestnut mare put on a captivating performance, effortlessly cruising around the course, which she cleared fault-free in an impressive and unassailable time of 63.19 seconds.
Later in the morning, the Land Rover Stakes (Senior 1.45m Open Jumping Competition) featured some of Great Britain's top jumpers, with Ben Maher and Will Fletcher finishing in first and second places respectively. Testament to the complex design of the course, just 11 of the 34 riders went clear to progress to the jump-off. Dan Delsart and his 13-year-old bay gelding, Lord Quidam, soared to the top of the rankings following their first-round performance in a time of 71.77 seconds. However, his lead was short lived after a masterful ride from the highly experienced Ben Maher and his talented eight-year old mare, Ginger Blue. The duo completed a remarkable double-clear and finished ahead of the rest of the pack with a final time of 45.98 seconds placing him 0.7 seconds ahead of second-placed Will Fletcher and his energetic gelding, Persimmon.
---
DRIVING: PERFECT START FOR WORLD-LEADING DRIVER EXELL
Today's dressage in the Land Rover International Driving Grand Prix saw pony and horse fours do battle in this first phase of the competition. Eleven nations are represented by the 27 contenders in horse fours while the much smaller field in pony fours - just seven competitors - has representation from five nations.
World horse four champion, both indoors and out, Boyd Exell from Australia, was in the first ten to drive the test and quickly set the bar high, his team of mixed warmbloods going sweetly to record a score of 31.06. Also impressing the judges and just 5-penalties behind, is Bram Chardon, son of Holland's most successful four-in-hand driver over the last three decades. In third place, another 5-penalties adrift, is France's Benjamin Aillaud driving his beautiful team of black Arabian/Friesian crosses.
Bram's father, Ijsbrand Chardon is lying in fifth place, their combined scores putting them at the top of the Nation's Leader Board, with USA in second place and France third.
The highest placed of the home nation is experienced driver, Wilf Bowman-Ripley, in tenth place.
In the pony fours, seven times Royal Windsor winner, Jan de Boer from the Netherlands is heading the dressage with his Welsh ponies, but challenging him closely, less than 2-penalties behind, is Tinne Bax from Belgium. Friendly rivals, these two took first and second here last year. Jaqueline Walter from Germany is in third place, some ten penalties adrift of these two.
Highest placed representative from Great Britain is Roger Campbell, the Welsh ponies he drives belonging to Jaqueline Walter. Roger, who is based in Germany, won the marathon section with these ponies last year.
Head judge Andrew Counsell, remarked, "It was a very good day in which we saw some really lovely horses. Those with the good basics were the ones that got the good marks today. It is very encouraging to see this standard so early in the season."
---
PHOTO OF THE DAY
Her Majesty The Queen and Carl Hester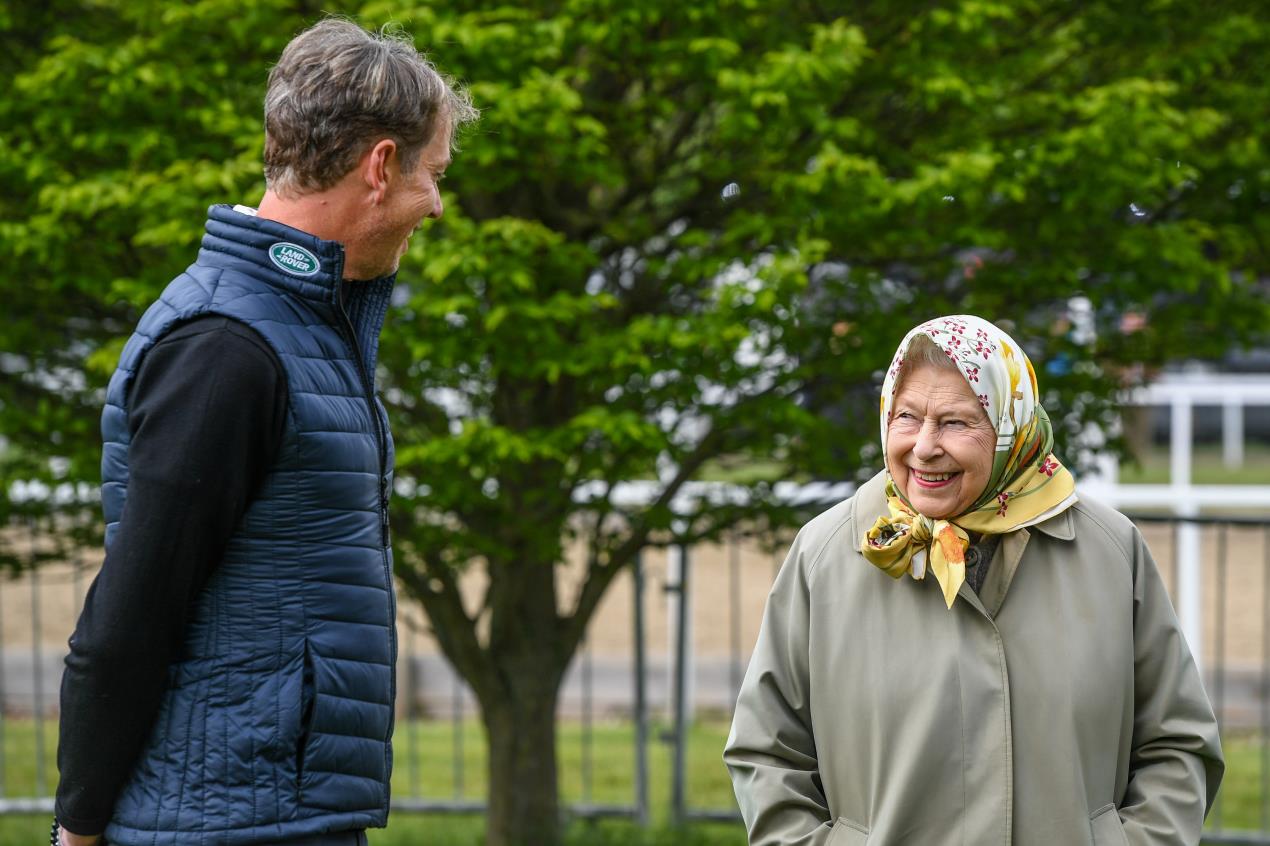 ---
WHAT TO LOOK FORWARD TO TOMORROW
CDI4* FEI Dressage - The Al Shira'aa Grand Prix Freestyle to Music
CAI3* H2 Land Rover International Driving Grand Prix
Royal Windsor Endurance supported by The Kingdom of Bahrain
CSI5* Manama Speed Stakes and CSI5* Pearl Stakes
DAKS Pony Club Mounted Games
Land Rover Shetland Pony Grand National
Tickets for Royal Windsor Horse Show are still available via www.rwhs.co.uk. Tickets can also be purchased by calling the box office on 0844 581 4960 from the UK and +44 (0)121 796 6290 internationally, or on arrival at the Show.